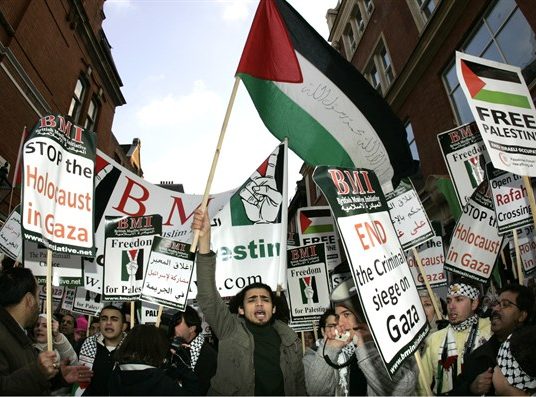 Discussing the Boycott, Divestment and Sanctions (BDS) movement targeting the Jewish state, Ambassador Dani Dayan, Israel's Consul General in New York, declared that the "real war" is the intimidation, disruption and attempted silencing of pro-Israel voices on U.S. college campuses.
"There we have a real war," Ambassador Dayan said, referring to attempts to shut down pro-Israel speakers on American campuses. "And we have to be much more aggressive, much more assertive. … But it is not only an Israeli problem, what is happening on many campuses across America. I think it is first and foremost an American problem."
He's certainly correct, given how conservative speakers are routinely treated when they attempt to speak on campuses and cut through the leftist propaganda students are deluged with.
Ambassador Dayan himself has experienced this. Just last month, he was heckled and interrupted repeatedly during a speech at the City College of New York by students from the CCNY chapter of the Students for Justice in Palestine and other anti-Israel groups.
Regarding the anti-Israel actions on U.S. campuses, Ambassador Dayan said, "In some senses, I think we are in the same boat, as we say sometimes in Israel, with other movements that their freedom of speech is obstructed on many campuses."
He continued: "It happens on the West Coast. It happens on the East Coast. I think as a foreign representative I have to be very careful but I think it is a problem that American society has to deal with not only in respect to Israel."
"In some senses, it is the same phenomenon that we see on campuses by extreme elements that are also anti-Israeli but not only anti-Israeli. In some cases they are even anti-American. And we as Israel, we have to be relentless. We cannot give up."
As to that, Ambassador Dayan has vowed to return to CCNY and refuses to be intimidated. We should not give any ground to our enemies," he stated. "On the contrary, I will make a point of coming to the same place again next year and the next semester. And we must persevere."
Danon also had something to say about the BDS movement as a whole, which he described as 'a "big failure."
"Let's not forget that. "You know, I saw a survey of the market value of the companies targeted by BDS and all of them – for sure the average, maybe there was one that for common business reasons didn't – but on the average they made twice the market performance. So the economic BDS is a total failure. And it is sufficient to see the shape of Israel's economy these days."