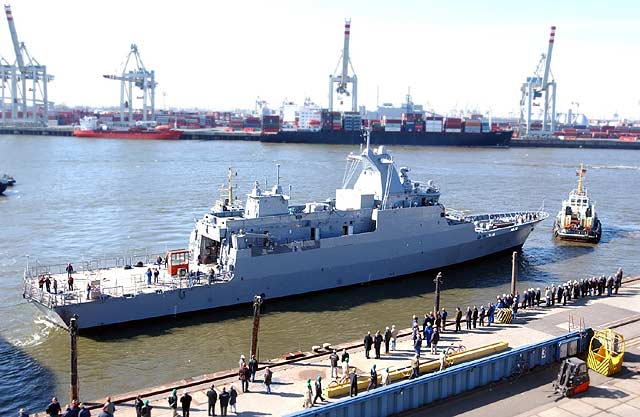 Israel and the German government have finalized a deal for the German firm Thyssen Krupp to build four new corvettes for the Israeli Navy at the Kiel shipyards.
The exact details of what model the Israelis settled on is classified, but based on previous talks the ships will probably be either MEKO A100 class (pictured above) or the MEKO CSL's, something more along the lines of a littoral combat ship. The new frigates will be configured with Israeli electronics like IAI's Elta's EL/M-2248 MF-STAR radar systems and Israeli weaponry like the new Barak-8 medium range air defense missile. There's also a rear pad for an attack or recon helicopter. The cost of the deal is a billion euros, of which Germany will subsidize 115 million euros. This is a similar type of deal to the one
Israel did with Germany
to get its six Dolphin-class nuclear capable subs, also built at Kiel.
Israel's strategic mission for the corvettes is the protection of Israel's off shore drilling installations, so they needed a fast ship that can provide decent defense against any attacking enemies as well as surface attack punch. Israel's SOTA Heron UAVs are already operating in maritime patrols and the new ships will augment that.
The work is expected to start in a matter of weeks, as soon as the German parliament's budget committee gives final approval, which is expected to be forthcoming.