The IDF is continuing its ground assault on the Hamas tunnels. It should be noted that these are not simple structures, but concrete reinforced structures leading to what amounts to an underground Hamas fortress, complete with missile factories, command bunkers and armories. All the building supplies the UN and the rest of the Hamas groupies were screaming and pressuring Israel to allow into Gaza didn't go for civilian projects, but to build up this huge terrorist infrastructure. Israel can simply not allow them to exist, especially since a number of them now have adits that were constructed under Israel's border fence and lead to civilian areas. The raw video below displays one of the six the IDF have found so far and destroyed.
Here's an IDF summary of how the war on the tunnels is going.
The IDF released the following summary of today's events:

Over the course of the day, IDF forces have detected and detonated 6 offensive tunnels both in the Gaza Strip area and in Israeli territory. The tunnels pose an imminent threat to the safety of Israeli civilians living in communities along the Gaza Strip border; therefore the IDF operates in order to destroy them.

Several offensive tunnels were uncovered during the ground phase of operation "Protective Edge":

· An offensive tunnel in the southern Gaza Strip that had 4 access points to it- one in Israel, one blocked, and 2 others in the Gaza Strip. During the detonation several secondary explosions were identified, suggesting it contained explosives. One of the access points in Gaza was uncovered inside a house. The tunnel was 1.2 KM long.

· A tunnel that had 4 different access points in Gaza and an additional access point in Israel that was discovered close to an Israeli community.

· One offensive tunnel uncovered in the northern Gaza Strip had 5 different access points and contained barrels of explosives and a communication cable.

· An offensive tunnel in the central Gaza Strip had 2 access points, one of them in Israeli territory.

· An offensive tunnel in the central Gaza Strip that had 8 access points.

· An offensive tunnel in the southern Gaza Strip.

Since the beginning of the ground phase of the operation the IDF engaged and killed 110 terrorist, and targeted 1,032 terror sites, 341 of which were targeted since this morning. Amongst the sites that were targeted were: rocket launching facilities, command and control headquarters, and underground rocket launchers.

In addition, the IDF along with the ISA targeted today the head of the Hamas observation alignment in the Gaza Strip.

IDF Spokesman, Lt. Col. Peter Lerner: "Since the beginning of the ground phase of the operation, the IDF has exposed 14 tunnels headed towards Israel, all intended to infiltrate Israel and carry out terror attacks. It's like the 'Underground', the 'Metro' or the 'Subway'. These tunnels are all connected. I would describe it as 'Lower Gaza'."
The war has not been without cost. The IDF Golani Brigades lost 13 soldiers (H'YD) in combat with heavily armed Hamas fighters entrenched among civilians early this morning in a raid on Shejayia, a neighborhood of Gaza City. Sheijaya is a major Hamas stronghold, with large rocket arsenals and arms factories and is the site of concealed openings of terrorist tunnels that snake under the border into Israel near Kibbutz Nahal Oz. The Arabs whom identify themselves as Palestinians claimed a death count of over 60 and over 200 wounded.Hamas, through the Red Cross, had requested a two hour truce for a three-hour the truce and began launching rockets from Shejayia and other areas again.Shejaiya residents were told to evacuate days ago.
So when Hamas broke the ceasefire, The IDF attacked Shejayia..and with good reason: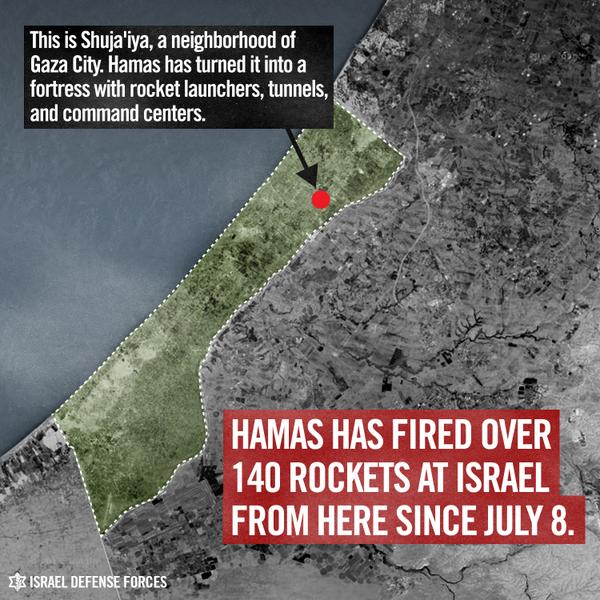 What Hamas is attempting to do is recreate Hezbollah's strategy in Lebanon. Hamas is not only bringing its deadly tunnels into play, but also planting small commando units heavily armed with anti-tank rockets across the paths of advancing Israeli armored forces. Unfortunately for Hamas, the Israelis learned from Lebanon, and this time they're not being sent in haphazardly without any plan by Ehud Olmert and 'Comrade' Peretz.The Israeli Merkava battle tanks, equipped with 'Windbreaker' armor fended off most of the anti-tank rockets without a scratch. The 13 Golani soldiers, from what I've heard, were in an older APC that was ambushed. There was an earlier claim by Hamas that they had captured an Israeli soldier. So far, it appears to be unfounded.
Needless to say, United Nations Secretary General Ban Ki-moon condemned the Israel attack on Shejayia this evening, calling it an 'atrocious action', He had nothing to say about Hamas/Fatah using civilians as human shields, Or violating humanitarian ceasefires granted through an international organization. That's apparently AOK with Ban. As I write this, another of those UN Security Council meetings is going on. I'm sure they'll come out with the usual puerile statement calling for a ceasefire. Although why the UN would expect the Israelis to agree when Hamas has violated all three of them is another question.
Hamas is fighting desperately to save its tunnel system from destruction by the IDF. The tunnels are a major Hamas project, and they've spent a lot of time and money building them up. They won't allow it to be destroyed without a fight to the death.Still to come after the IDF finishes cleaning out Shejaiya are battles for another three Hamas strongholds in Gaza City: Shaati, Al Bureij and Nuseira.
Israeli PM Netanyahu spoke on national television to the Israeli people this afternoon. Here's what he said:
"We are now in the midst of a war to defend our home."
"Each one of us knows someone at the front. We must stand together, united and be strong on difficult days like this and more to come. Israel didn't choose this war, but from the moment it entered it, it is determined to complete it."
"We have uncovered numerous tunnels and equipment unlike we have uncovered until now, Hamas has over the years built them to attack us.If these tunnels were not exposed the outcome could be fatal."
Netanyahu explained that the tunnels could be used to attack Israeli schools and communities and take hostages, and talked a little about the IDF efforts to find these tunnels and the need to destroy them. And he talked a bit about civilian casualties.
"We agreed to a ceasefire, to a humanitarian ceasefires, but Hamas still chose to fight and it is our right to defend ourselves.No one can claim that Israel chose escalation so Hamas only is totally responsible for any casualties."
"Hamas thought they would break our home front with rockets but Iron Dome and air raids have answered that.Hamas bears full responsibility for the loss of lives and use their citizens as human shields. We regret the loss of lives in Gaza."
"In all battles there are difficulties. This one will expand and continue as necessary we knew this when we set out. We bow our heads before our sons who fell so that we could continue living in our land."
"This battle against terror is a part of a historical battle targeting the State since its establishment. The eternal people is not afraid of a long road."