Our president and John Kerry
have blood on their hands.
Ninety minutes into the ceasefire they forced Israel into Hamas fighters emerged from a tunnel shaft, and detonated a suicide bomb near a group of soldiers from the Givati Brigade.
Two of them, Major Benaya Sarel, 26, from Kiryat Arba, and St.-Sgt. Liel Gidoni (HY"D), 20 from Jerusalem were killed.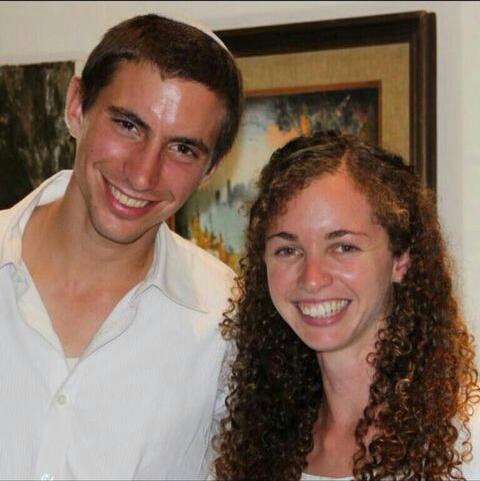 Second Lt. Hadar Goldin, a 23-year-old Givati officer from Kfar Saba pictured above is presumed kidnapped by the IDF. The families have all been notified.
IDF
✔
@IDFSpokesperson
Follow
We are conducting extensive searches in S. Gaza in order to find a missing IDF soldier. We suspect the soldier was kidnapped by Hamas today
The IDF said the incident occurred at 9:30 a.m.
This tragedy is the fault of President Obama, John Kerry and the UN. It was they who pressured Israel into a ceasefire with Hamas, they who insisted on protecting a terrorist group, they who are actively funding, aiding and abetting evil.
"The Israelis of course are reporting this morning that that ceasefire was broken," White House spokesman Josh Earnest told CNN. "And that apparently Hamas individuals used the cover of a humanitarian ceasefire to attack Israeli soldiers and even to take one hostage. That would be a rather barbaric violation of the ceasefire."
As if he and the White House don;t know what happened? As if what Israel is reporting is open to question, equal to anything Hamas might say? And isn't the White House spokeshole paying attention to
what a member of his own administration had to say? Like the White House's Deputy National Security Adviser Tony Blinked?
"This is an outrageous action and we look to the rest of the world to join us in condemning it," he told MSNBC television.
Even John Kerry admitted that he was used as a tool by Hamas, as the
Washington Post
reported:
Kerry condemned the killing of the two soldiers and the abduction of the officer as "an outrageous violation of the cease-fire negotiated over the past several days, and of the assurances given to the United States and the United Nations." In a statement issued after the phone conversation with Netanyahu, he called on Hamas to release the captive immediately and unconditionally.

"After the horrific loss of life in this attack and its aftermath, it would be a tragedy if this outrageous attack leads to more suffering and loss of life on both sides of this conflict," Kerry added. He called for renewed efforts "to end the tunnel and rocket attacks by Hamas terrorists on Israel and the suffering and loss of civilian life."
Apparently Secretary Kerry remains clueless. Hamas doesn't care about loss of civilian life in Gaza. In fact, they welcome it for propaganda purposes. They care about killing Jews.
And the Israeli reaction?

"The cease-fire is over," said Lt. Col. Peter Lerner, a senior spokesman for the Israel Defense Forces. Ground operations will continue, he said, "and our aircraft are in the sky as we speak."
The long term ceasefire the Israelis were prepared to negotiate in good faith in Egypt? That's over too.
My suspicion is that Hamas has been in contact with Hezbollah. Iran has given probably given Hezbollah permission to attack while Israel is engaged with Hamas, because Iran wants the world diverted form its rogue nuclear weapons program. Meanwhile, Abbas and Fatah will continue with lawfare and coordinated terrorist incidents in Israel, Judea and Samaria.
If I'm right, this war is going to settle a few things. And it should.
Let UNRWA talk their Hamas buddies into releasing civilians into their care and get them the hell out of the way,because I have no more love to give. You can't make peace with Amalek.
Hamas delenda est
. Enough.
Release the Lion of Judah.
FINISH IT.