Rabbi Yosef Raksin(HY"D) of Crown Heights was murdered Shabbat morning (13th of Av) on his way to the Beis Menachem Chabad Shul of North Miami Beach for services. He was in Miami to visit his grandchildren.
According to witnesses, the rabbi was accosted by two young black males, one wearing an orange shirt and one wearing a yellow shirt. TYhere was a short altercation,a single shot was fired at the Rabbi at almost point blank range, and the two suspected perpetrators fled the scene, one on a bicycle, the other on foot.
Rabbi Raksin, 60, was assisted by Jean Louis Denis, a local resident and was airlifted to Jackson Memorial Hospital, where he later died.
"I talked a little bit to him; he gave me his name, that he was from New York," Denis said, "and he told me that two males were the people that did this."
Anyone who has information on this crime call Miami-Dade Crime Stoppers at 305-471-TIPS.
The neighborhood is in a heavily-populated orthodox Jewish community with 11 synagogues in the area, and has been targeted lately with anti-semitic attacks. On July 28, about two blocks from where Rabbi Raksin was shot, the Congregation Torah Ve'emuna was vandalized with swastikas and the word "Hamas" spray-painted on the pillars of the synagogue.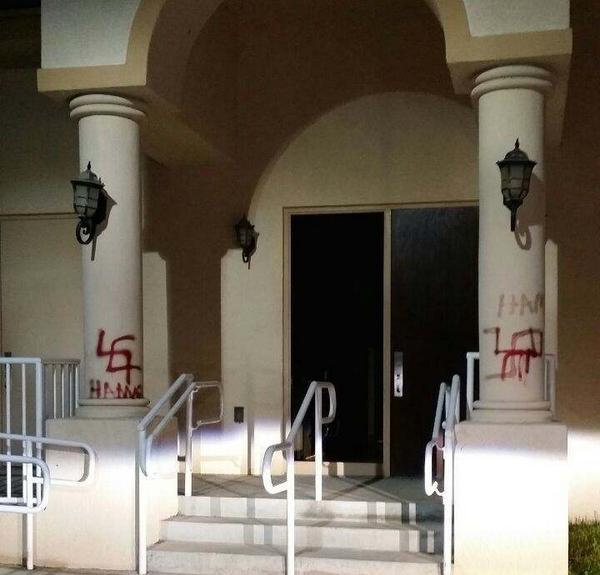 Other incidents of anti-semitic vandalism have also occurred in the neighborhood recently.
The local police are declining to call this a hate crime, which is a good example of how ridiculous the entire designation is. What could be more hateful than to murder a harmless rabbi and leave him dead in the streets? And since Rabbi Raksin was an Orthodox rabbi who belonged to Chabad, there was no mistaking him for anything but a Jew on his way to worship.He was killed because he was a Jew.
In any event, if the description is accurate and it turns out he
was
murdered by two young black males, there will be no hate crime charges anyway. These are federal statutes, and I was unable to find a single instance of hate crime charges being filed where the perpetrator was black since 2009
when Eric Holder became Attorney General.
Baruch Dayan Emet. The Almighty G-d is the true judge, and He will avenge the innocent blood of his servant in His own time Whether the two men who did this are caught or not, I would not want to be them for all the money in the world.